Michael Kittell is a shareholder at Albright Kittell PC and is licensed to practice law in both Oregon and Washington State.  He graduated magna cum laude (top 5%) from Lewis and Clark Law School in Portland, Oregon and cum laude (top 10%) from both Pomona College in 2006 and from Tillamook High School in 2002.  Michael assists clients primarily in Tillamook County, but may take cases in Multnomah, Washington, Clatsop and Lincoln counties.
Michael specializes in real property law, including land use, commercial and residential transactions, landlord-tenant, foreclosures, title matters and all nature of real property disputes.  He also practices business law and estate planning and administration, as well as general civil litigation.  His approach in these areas emphasizes intelligence, strategy and quality.  He values an open relationship with his clients and is attentive to their concerns and goals.
Michael is a native of Tillamook, Oregon. While a student at Tillamook High School, he played basketball and football, and participated in track. Before attending law school, Michael and his wife, Taylor, climbed all 55 of the 14,000 ft. mountains in Colorado in 40 consecutive days to raise money for the Tillamook YMCA. Michael serves on the YMCA Board of Directors the last several years and is currently President. His interests include alpine and rock climbing, trail running with his dog Bailey, biking, basketball, skiing and traveling. Michael is also an avid photographer, and part of his photographic portfolio can be seen in the framed pictures at Albright Kittell PC and on his website at www.stokedgoatphoto.com.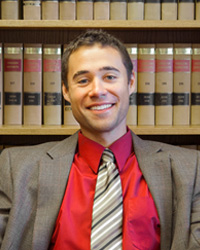 Primary Practice Areas
Bar Admissions
Oregon & Washington
Education
Lewis & Clark Law School (aka Northwestern School of Law) (2010), magna cum laude
Pomona College, BA in Geology (2006), cum laude
Tillamook High School (2002)